Ash Woodturning Blanks!
Ash woodturning blanks are strong, durable and resilient. Ash turning wood is a great choice for bowls and tool handles. This wood is off white to pale golden yellow in color with some brown streaking and a wide wood grain. Ash is a very stable turning wood.
Our woodturning bowl blanks and spindle blanks are green wood unless otherwise stated. They are sealed in wax to slow or prevent drying.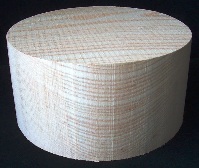 ASH BOWL & SPINDLE BLANKS ARE SOLD OUT.
---
Return from Ash Woodturning Blanks to Wood Inventory
---