Mimosa Woodturning Blanks!
Mimosa is sometimes called Persian silk tree. The sapwood is a light tan color. The heartwood contains a variety of browns, from light brown to a deep, rich brown with attractive grain patterns. This is a beautiful turning wood which sands well.
Our woodturning bowl blanks and spindle blanks are green wood unless otherwise stated. They are sealed in wax to slow or prevent drying.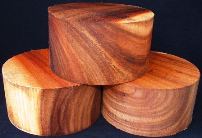 ALL BOWL BLANKS AND SPINDLE BLANKS ARE SOLD OUT.
---
Return from Mimosa to Wood Inventory
---