Coring Bowl Blanks
Saves Wood and Saves Money!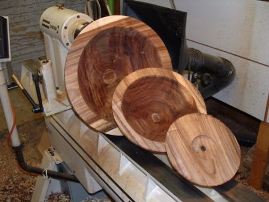 Coring bowl blanks is a way to produce more than one bowl from a single wood blank. It does require some type of coring tool. There are a few different ones on the market, from hand held models as simple as the Robert Sorby arm brace tool for which you can purchase a straight and thin slicing attachment up to what I am currently using which is the "Oneway Easy-Core" system. On my "Oneway 2436" lathe there are four curved knives and fingers or supports which allow me to retrieve bowl blanks from nine to eighteen inches in diameter from one woodturning blank. Another feature is the cutter itself is removable to allow them to be sharpened or they may be purchased separately, unlike some other systems.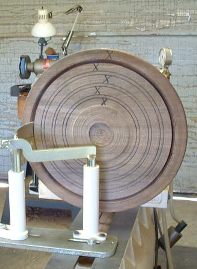 This picture shows a piece of black walnut which after being rough turned was twenty inches in diameter. As mentioned in our green wood turning article, I use the ten percent rule for determining the wall thickness. In this case the piece of walnut was fairly dry so it was not necessary for me to make the bowl blanks at the ten- percent thickness. As the picture shows, I marked out all the cuts first, and then cut out five blanks from the one piece of wood. The largest bowl finished out at 19 3/4" and the smallest at 8" in diameter. In this case, if you consider the time required to hollow out the inside of a 20" bowl or to core out five bowl blanks from the same 20" blank, you will see the cost advantage when buying your wood turning blanks
This nesting set of three natural edge black cherry burl bowls were also cored in this way. If you are selling your work these nesting bowls would be set at a higher price than individual bowls.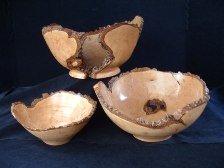 If you're looking for a fast, money saving way to produce more products from the same amount of wood, coring is the solution!
---
Return from Coring Bowl Blanks to Woodturning Tools
---