Customer Feedback
We love to receive customer feedback. Thank you to all who took the time to write. We strive to send out good quality woodturning blanks. Repeat orders from our customers are greatly appreciated and tell us that you like the quality of our turning wood. Read what some of our customers have written.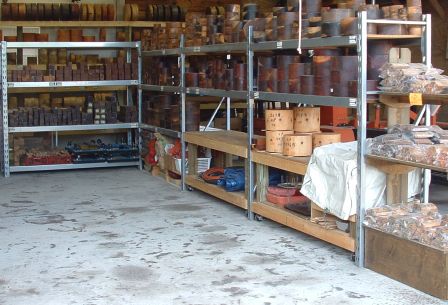 ---
My wife and I drove down to pick up a few items to keep me busy. The selection of materials and supplies were amazing and their advise priceless. However a 1 hour drive to pick up a few items turned into a 3 hour adventure. Their willingness to pass on their years of experience from turning tips to understanding the intrinsically of the material was amazing. But more importantly we spent a Saturday afternoon just talking with two genuinely good people. Steve and Dianne are the kind of people you walk into as a customer and walk away a friend. We are looking forward to our next "trip" to pick up a few items. Keith from Pinellas, FL
________
The wood just arrived. Thank you so much for getting it out so quickly, and for the extra blank that was included. This is all going to make a wonderful father's day present for my father. I"ll be sure to pass on your information to him in case he wants to order any blanks for himself. Thanks, Ben Crawford
________
Thank you! I was really pleased with the quality of your product and it matched the description on your website. This has not always been the case with others that are out there selling wood blanks. Tom Holt from Camden, AR
________
Both Sue and I enjoyed our visit with you both this past week. Steve – appreciate your sharing your NIP turning wisdom and being able to get a first-hand look at some of your beautiful work. Dianne – equally appreciate your sharing some of the history of the business and its evolution that has resulted in the excellent enterprise it is today. No doubt, the quality of the wood you sell, coupled with the personal attention you give to selecting each piece for your customers, will ensure WoodTurningBlanks4U.com will be around as long as you and Steve have the energy and interest to continue the operation as it is today. It was truly a treat to meet you both. Jared and Sue from Newnan, GA
________
Just received my bowl blanks. They are terrific! I will be buying again. Thanks for the great product. Tony from Oviedo, FL
_________
Just wanted to tell you how happy I am with the bowl blanks I received on my first order. I am an experienced turner, but this in my first endeavor into green wood turning. So far, I have nice spalting in my Sycamore blank and beautiful compression grain and iridescence in my Camphor blank. I can't wait to try out the Norfolk Pine and the blanks in my 2nd order due to arrive tomorrow. Obviously, only time will tell, but your wood blanks and tips on green turning will give me the best chances of success! Philip from Williamsburg, VA
________
I came to your store and was surprised at the amount of bowl and spindle blanks available. What a gold mine of wood varieties in different sizes and thicknesses. I meet Dianne, one of the owners she was friendly, really helpful in my selections and gave me information about the characteristics of the wood. By the end of my visit I knew that I would be going back to Woodturning Blanks 4 U, to buy a lot of my wood because of the selection, sizes and the affordability. Patrick from Sarasota, FL
________
Had box opening "party" today for the 2 orders I placed. Wood is even more impressive in person than what I saw on your site. Thanks so much! Shirley
________
I received my shipment yesterday and couldn't be more pleased with the product quality. Kevin, from Surprise, AZ
________
It was a very nice treat to meet you and Steve yesterday. I had an idea of your business set-up from your website but a visit does much more than just put faces to names.
I was impressed by the range of timbers you handle but more so for the obvious care and attention to detail which you attach to the business of mail-order blanks.
Please accept my heartfelt thanks to you and Steve for your warm welcome and for giving us so much of your time and especially to Steve for the wide ranging chat across the subject of woodturning. Mike Freeman, United Kingdom
_________
Got my order today. Very happy with everything. That Indian Rosewood is gonna be sweet!
I will be ordering again and referring my friends. Dan, Council Bluffs, Iowa
_________
I really like the NIP bowl blanks that I received from you. Sold the first two as soon as they got to the display case. The large one took 1st place in the VA Hospital Muskogee Arts festival (woodworking category) earlier this month. John B
__________
Thank you for my latest order. I can't wait. The last order I made with you ended up with really beautiful bowls. Looking forward to more orders in the future. John, Kalamazoo, MI
__________
Thanks. You have a quality product, the best that's out there as far as I'm concerned. I'm going through a NIP phase, turning dipping and sanding in Watco for a month or more. I sell everyone that I make. Robert, Bellefonte, PA
__________
I was very pleased with the blanks and spindles on my previous orders. The wood and prices are great. I appreciate the descriptions and workability of the wood selections. I especially like seeing finished pieces for different types of wood. Dennis, Flushing MI
__________
I am a construction manager in the new home building industry and have been for sometime so I'm going to say I know a few things about customer service and I have to say that Dianne and Steve have surpassed all expectations in service. I placed my order when they were on vacation. Steve took the time to let me know that they were on vacation and they would fill my order once they got back which they did. They sent me an order confirmation and an estimated delivery, which was spot on, plus you get amazing turning blanks at the same time so where can you go wrong? Thank you, Life long customer Joe from Holiday, FL
__________
Just received my order. I'm really happy with the wood and the prices are great. I WILL be buying more!! Scott from Whittier, CA
__________
Wanted to thank you guys for the beautiful Monkey Pod blank. I have rough turned it and have it drying now. Thanks for selecting such a nice piece for me. Will reorder soon! Logan from Austin, TX
__________
Thanks Guys! I plan on buying only from you guys now! Awesome turning material in the last order!! Gerry from Messa, AZ
__________
Thanks for the wood; it is very nice and the great service. I'll be buying from you again, that's for sure. Rich from Salisbury Mills, NY
__________
Thanks for the response. I've ordered from you before, and have been extremely satisfied with the blanks you sent me! Keep up the good work! Thanks again. Chuck from West Dundee, Illinois
__________
Just received my first Norfolk blank, just beautiful! Will be reordering again very soon. So excited to get this beast in the workshop! Thanks so much. Logan from Austin, TX
__________
We turned one Norfolk Island Pine blank today. Turned out gorgeous. Giving one to a friend when we get home and will turn the other. Ron & Connie from Panama City Beach, FL
__________
The blanks are beautiful. As soon as the weather warms up a little bit, I'll move the lathe onto the driveway (outside) and have-at-it! Thanks again. I look forward to future orders with you! Roger from Colorado Springs, CO
__________
Just wanted to say thanks and the wood looks great! Can't wait to start turning. Roland from Horsham, PA
__________
You guys are great. Have a feeling I will become a great customer of yours. Just retired and just started turning about a month ago. I have very little contact for wood, and getting tired of turning live oak branches for practice from my yard. John from Tallahassee, FL
__________
It was a true pleasure to meet you both yesterday and spend time at your shop. I must commend you on not only your quality selection, but how careful you are to prepare the blanks with the eye of a woodturner. You two make a great team. Thank you for your kind hospitality and the great prices. I look forward to turning the fruits of our first visit with you. Chuck & Jen From Marco Island FL
__________
I ordered the Norfolk Island pine on my first order as a surprise for my husband who was dying to try turning it. He was so excited that you picked a really great piece. It turned out gorgeous. We love that you have unusual woods and smaller inexpensive pieces so he can try them. He loved the poplar I got last time too. I can't wait to see what he does with these pieces. Joann, Boston, MA
__________
The blanks you sent could not have turned out nicer. I am so pleased to have found you both. Thanks for the time and care you put into each blank and making sure they deliver as promised. My clients and I are ecstatic with the selection of wood you offer. Your selections are as fantastic as the quality. Keep up the good work, it is very much appreciated! Jared from Littleton, CO
__________
I just wanted to let you know I just received my wood bowl blanks. I am very satisfied with the wood and you have great prices. I will be buying more from you. Brent from Pride, LA
__________
The blanks look great. I will definitely be reordering blanks from you in the future. Glad you guys are so close! David from LAND O LAKES FL
___________
My order of camphor wood arrived today. I could tell even before I opened the box. This is great looking wood. Beautiful grain! Richard from Phoenix, AZ
___________
I received my woodturning blanks yesterday. They look beautiful, can't wait to get in the shop. I have linked to your site from twitter and facebook. I will also be putting up a links page on my website and will link from there as well. Lloyd from Piedmont, SC
___________
Quick turnaround time. I've have really liked all the blanks I've purchased from you guys in the past (at The Woodworking Shows). You guys have the best prices and some interesting species. I'm sure I will be ordering more. J. Eric from Gainesville, FL
___________
I was really impressed with the selection of materials that were in stock when I was there. You and your wife were very helpful in helping select the different woods that I brought back to West Virginia and for the tips on how to finish my projects. My wife was impressed with your bowls that you showed her and wishes she had taken pictures of your work. Hank from WV
___________
The bowls I've made out of your wood have turned out great and have all sold--some before I got them off the lathe! Thanks for all the great wood. Vickie from MN
___________
My order just arrived at the time promised - always a good sign. The 3 Norfolk Island Pine blanks are beautiful. I can't wait to see the figure inside. I hope I am up to the task of revealing it. Thanks again for great service. Tom from Maryland
___________
I received your blanks last week. Was very pleased. I've attached a pic of the camphor blank after turning it as far as I will go until it sits in a bag for some time. Just wanted you to see how good the grain looks so far. My first time turning wet wood....WOW, what a pleasure! And the smell of the Camphor, AWESOME. My lathe is in my garage so I left the windows down in my vehicles and it has left them with a very nice aroma. Thanks, David from Warner Robbins, GA
---
Click here to send us your comments.
---
Click to view our wide selection of turning woods.
---