An Art Gallery of Turned Bowls, Urns, Forms and other Vessels!
Hello, and welcome to The Art Gallery. My name is Steve Parker and I am the artist that has created these woodturning art forms and designs. I hope you take a few minutes to browse through the gallery to view my turned art.
Every piece is one-of-a-kind as no two pieces of wood are exactly the same in design or shape. Every knot, groove, line and even hole is naturally found in the wood, giving it character and originality.
Whether you find some woodturning art that you would like to purchase or you are just looking, I hope that you enjoy seeing some of my turned art as much as I enjoy creating it.
Thanks for stopping by. Come back SOON!
---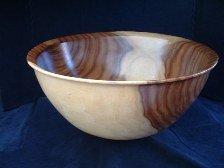 Here is a picture of a large Rosewood Bowl that contains both heartwood and sapwood creating a beautiful complimentary color scheme.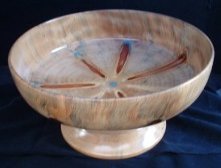 For added flare and design, you can make a footed bowl. If you really want to get creative, you can use two different types of wood creating a more dramatic look.

---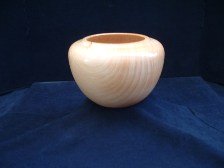 This is a small Jacaranda Urn
that shows its natural grain
beautifully with a small amount of
wipe on poly-urethane.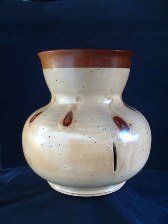 Mahogany works as a beautiful
accent wood with the
Norfolk Island Pine.
It emphasizes the coloring of the
area where the branches grew.

---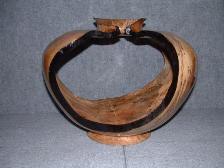 One of our favorite pieces, this 18" diameter Camphor Double Hollow Form provided many challenges in the creation process. Note the split at the rim; this could have developed into a disastrous situation quickly as the piece could have exploded while turning.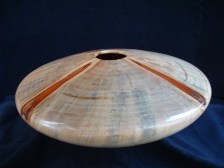 Norfolk Island Pine has turned out to be one of the most highly demanded types of wood by our customers. Finished pieces sell quickly and are hard to keep stocked.

---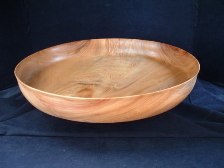 A Camphor Platter is one of
many other forms you can turn
with our blanks. Platters are very functional pieces of art
and make great gifts.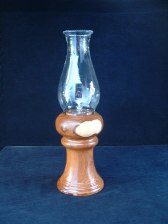 Light up your life with this
stunning oil lamp. Oil lamp inserts
are easy to work with and can be
purchased through most
wood craft supply stores.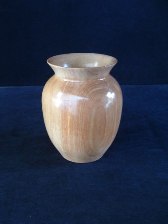 Birch is a light colored wood
that sports a relatively fine
and uniform grain. The swirl
in this piece is quite
eye-catching.

---
Return from our Art Gallery to Wood Inventory
---