Supplies For the Woodturner
PENTACRYL™ A green wood stabilizer that displaces water in fresh cut wood and prevents shrinking during the drying process, which reduces cracking and checking. PENTACRYL will not discolor the wood, is non-hygroscopic and will not oxidize, decompose or migrate in the wood when exposed to different degrees of temperature and humidity. Once dry, the treated wood can be sanded, stained/dyed, glued and will accept a finish. If you enjoy turning or working with green wood but struggle with cracking, checking or warping, you need to take a closer look at Pentacryl!
I like to use Pentacryl Wood Stabilizer on my rough-turned green wood. I use it on everything except the Indian Rosewood and Mimosa as these are such stable woods that it's not needed. I use a paint brush to apply Pentacryl to the inside and outside of the item. I don't immerse and soak my item in Pentacryl as the company directions state since it then takes forever to dry. Store it out of sunlight & direct air movement till dry, here in Florida, usually 4-6 weeks. An easy way to test if your item is dry is to try sanding it. If your sandpaper loads up, it's not dry enough.
When the rough turned bowls have dried sufficiently, remount on your lathe to complete the final turning, sanding and finishing.
| Product Size | Description | Price | |
| --- | --- | --- | --- |
| Pentacryl Wood Stabilizer | quart | $20.95 | |
| Pentacryl Wood Stabilizer | gallon | $59.95 | |
---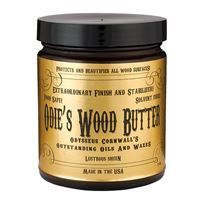 Odie's Wood Butter is a Food Safe, Solvent free, Non-toxic Wood Finish and Stabilizer that can be used alone or in conjunction with any combination of other Odie's Oil Finish Products. This high concentration of Odie's Oil enhances luster and durability in one coat. Odie's Wood Butter (OWB) does not contain driers or any toxic chemicals, and all ingredients are food safe. Formulated to work on even the oiliest of woods, OWB is great for all species of wood, exotic and domestic. Use OWB like a soft wax to increase sheen and protection with the added benefits of oil. Will actually get better with age, becoming more durable and more beautiful! Just like the original Odie's Oil, OWB is great for wood turners and can be used as a friction polish! For extraordinary results, use over original Odie's Oil. Great finish for new wood and can be used to reactivate old wax. Suitable to use over other finishes to refresh and rejuvenate. It contains natural UV inhibitors-sunscreen for wood! Odie's Wood Butter is easy to use! No sanding or stripping in between coats or for retouching! Wipe on, Wait a while, Buff off. Easy! A LITTLE ODIE'S WOOD BUTTER GOES A LONG WAY! "No solvents" means there is almost nothing to evaporate, so what you put on the wood, stays in the wood. OWB covers many, many times the area of other wood finishes. Up to 20 times the coverage as conventional finishes. Coverage will vary depending on wood density and porosity.
| Product Size | Description | Price | |
| --- | --- | --- | --- |
| Odies Butter | 9 oz. | $36.50 | |
---
Return from Supplies to Wood Inventory
---