Maple Turning Wood
Maple turning wood tends to have cream sapwood; the heartwood is tan colored. Some blanks have spalting and or ambrosia lines. The wood is usually straight grained. Maple is a good turning wood that sands to a beautiful tight finish.
Our woodturning bowl blanks and spindle blanks are green wood unless otherwise stated. They are sealed in wax to slow or prevent drying.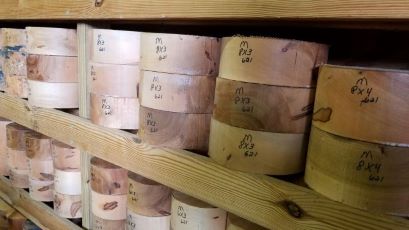 Bowl blank measurements are in inches, diameter x height.
ENTER QUANTITY WANTED IN BOX.
Product Size
Description
Price
 
4x2 Maple
bowl blank

$2.67

4x3 Maple
bowl blank

$4.00

4 x 3 1/2 Maple
bowl blank

$4.67

6x2 Maple
bowl blank

$6.00

6x3 Maple
bowl blank

$9.00

6x4 Maple
bowl blank

$12.00

8x2 Maple
bowl blank

$10.67

8x3 Maple
bowl blank

$16.00

8x4 Maple
bowl blank

$21.33

10x3 Maple
bowl blank

$25.00

12 x 2 1/2 Maple
bowl blank

$30.00

14x3 Maple
bowl blank

$49.00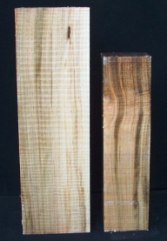 SPINDLE BLANKS
| Product Size | Description | Price |   |
| --- | --- | --- | --- |
| 2x2x10 Maple | spindle blank | $3.33 | |
| 2x2x12 Maple | spindle blank | $4.00 | |
| 2x2x14 Maple | spindle blank | $4.67 | |
| 3x3x6 Maple | spindle blank | $4.50 | |
| 3x3x8 Maple | spindle blank | $6.00 | |
| 3x3x12 Maple | spindle blank | $9.00 | |
| 3x3x14 Maple | spindle blank | $10.50 | |
| 3x3x16 Maple | spindle blank | $12.00 | |
| 4x4x12 Maple | spindle blank | $16.00 | |
| 4x4x14 Maple | spindle blank | $18.67 | |
Return from Maple Turning Wood to Wood Inventory
---